Archive for
January 14, 2015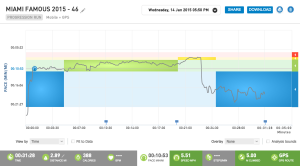 Add comment January 14, 2015
Doctors over 40 are less likely to say they run. Me quedan 2 días para romper este esquema…
[link]
Add comment January 14, 2015
In 616 workouts done while using miCoach. It doesn't take into account treadmill mileage, runs on other apps or runs without wearing electronics.
Then…
Average workout time: 44 minutes
Average calories burnt/workout: 469 cals
Average distance per workout: 3.5 miles
The first recorded workout was on 8/5/2010.  I ran 1.25 miles in 20:37 (actually walked most of it) at a 16:30 minute mile pace and burned 190 calories.
Add comment January 14, 2015