Archive for
January, 2014
Jueves por la noche fue la cena para conocer a los miembros del equipo y revisar los últimos detalles para la carrera. He aquí el texto integro del e-mail que le envié a los que han apoyado y unas fotos del evento:
Dear all,
There are not enough words to express the gratitude that I feel for the support that you have all given to the Blue Card Team through my participation in the Miami Half Marathon this coming Sunday. Last Thursday we had our team meeting and we were very lucky to have Mr. Joe Sachs sitting at our table with us. Mr. Sachs is a Holocaust Survivor and he shared with us his experience of working with the Jewish Community Services, especially his involvement in programs to support other Holocaust Survivors.
To kick off the agenda, we all took turns introducing ourselves and giving a brief explanation of why we had decided to run in support of this organization. When my turn came I did not have anything to say as significant as the people before me. Fortunately my family escaped Europe before the Nazis came to power so that was not what was driving me. It was the purpose of the organization as a whole, their mission. As stated on their website: "…Dignity was forcibly taken from them during the Holocaust, and The Blue Card ensures that its clients don't lose their dignity again, in their last years." But then I said something else. Something that I already knew but felt like stating out loud. I told them how I had only sent a couple of e-mails to my friends and family. To everyone and anyone in my e-mail address book. And somehow, after only 2 e-mails I had collected the most in the group. This proved that I am surrounded by seriously good people who have their priorities straight. And I feel blessed for that.
You should all know that The Blue Card has been rated 4-stars in the Charity Navigator system, which is the highest ranking available meaning that nearly 100% of the money collected is used for the stated mission and not for administrative or marketing purposes. For more information please visit www.bluecardfund.org.
Expect another e-mail tomorrow after the Race. I'll let you know how it went.
Thank you so much for your support.
SHAVUA TOV!!!!
Jaco
PS. There is still time to give. Please visit my fund raising site – http://www.imathlete.com/donate/JacoboKirsch – and help us bring dignity to the survivors in need.
Joe Sachs, sobreviviente y escritor.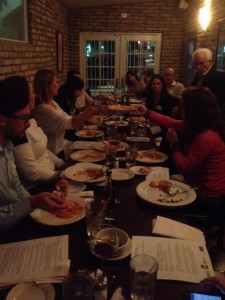 Con Adam (el capitán del equipo).
Add comment January 31, 2014